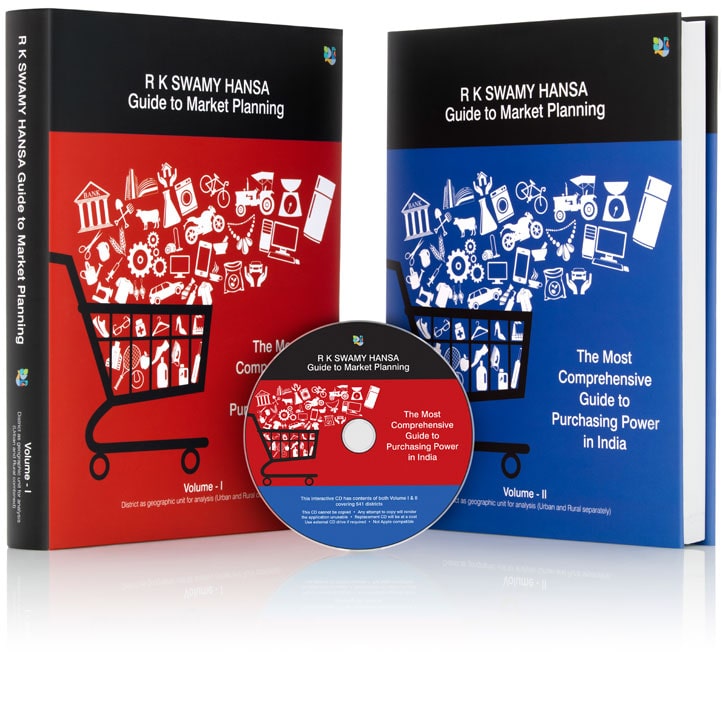 2 Volumes + 1 Interactive CD
Price: ₹ 45,000 + 18% GST
The most comprehensive guide to purchasing power in india
There is no other Guide like the R K SWAMY HANSA Guide to Market Planning. Over the years, users of this Guide have saved millions through enhanced efficiency of their marketing and sales efforts.
The Guide is unique for many reasons
It helps marketers focus limited resources for best results.
Three key indices provided – Market Potential Value (a measure of aggregate potential), Market Intensity Index (a measure of the quality and affluence of the consumers) and Media Exposure Index (a measure of Mass Media availability) – can be used individually or together to perform various types of analysis.
It provides a composite Urban + Rural view. It provides a disaggregated view at the Urban or Rural levels.
It provides information for 32 States and Union Territories (including the North-East and J&K) and 541 Districts.
It can be used across categories – Auto, Banking, Insurance, Financial Services, Consumer Packaged Goods, Food Products, Telecom, Consumer Durables, Building Materials, Real Estate, Agri Inputs, Machinery and Engineering Products, Logistics, Pharmaceuticals, Healthcare, Travel, Retail et al.
It helps in sales planning, to identify high potential markets and low-performance areas.
It helps prioritise rural markets for expansion.
It helps in identifying areas for development planning.
It enables customisation by every user for their particular needs, as they pick and choose the information for their situation.
It offers incredible value, as this information cannot be aggregated easily by individual users.
Above all, the users collectively make this Guide unique. Over 500 corporates and institutions use it. There can be no better testimony.
2 Volumes + 1 Interactive CD
Price: ₹ 45,000 + 18% GST
Order Now