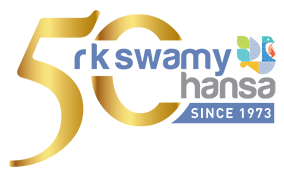 About us
R K SWAMY is one of India's most accomplished advertising agencies, with over four decades of experience serving an amazing array of clients.

We are part of R K SWAMY HANSA, the foremost Indian advertising and marketing services group.

We urge our clients to maximise return, not minimise risk.

Our clients have benefitted from our significant and dramatic contributions towards building their brands and businesses.

We are responsive and focused on our clients' success.

We know more about this market than most others.

We invest in knowledge.

We are among the few that can truly deliver Integration. Our Creative, Media, Digital, Events and Retail teams work under one Management.

Our client relationships are enduring.

Our proprietary protocols - Brand RJVNTR™ and Brand INNVTR™ - are designed and proven to deliver practical brand-building directions.

We wrote the book on Market Mapping, used by major marketers in the country.

We have a clear point of view on how brands grow in this complex market, and apply that to appropriate situations.

We subscribe to the view that Marketing Communications should be accountable and deliver results.

Our creative product is incisive and sharply crafted.

Our management team is seasoned and remarkably stable.

We have depth and width of experience like few others.

We are entrepreneurial.

We have a long-term orientation.

We have scale to handle the largest clients.

Our group is an acknowledged innovator in the business.